Best Afro Hair Transplant Turkey
African hair is truly unique in the sense that there's nothing quite like it in the human race! It's dense and coarse, as well as a lot stronger and robust than other hair types. Unfortunately, like the rest of the population, many Africans have had to deal with hair loss, either due to an underlying health condition or their genetic makeup - and when they do experience hair loss, they get in touch with a top rated hair transplant clinic in Turkey.
If you're looking to get that bold and beautiful afro back, then an afro hair transplant in Turkey is exactly what you need.
What is an afro Hair Transplant Turkey?
We get a lot of patients at our top rated hair transplant facility in Turkey, who are interested in getting an afro hair transplant, either due to traction alopecia which causes hair loss or due to a condition or habit which can cause hair loss - such as braids, bund, cornrows, dreadlocks, etc. - all of these can make hair brittle and prone to damage.
With that said, hair loss can also occur due to an underlying genetic condition, illness or traumatic event. No matter what your hair loss concerns, the best afro hair transplant in Turkey awaits - our friendly surgeon at WaveMedica Hair Transplants will listen to your hair loss concerns, helping you get back a beautiful and full head of hair!
Afro hair is very different from other hair types and, as such, which means it requires special attention because of its root type. For this hair type specifically, we offer afro hair transplants in Turkey - a form of FUE (follicular unit extraction) hair transplant method tailored specifically for afro hair. Therefore, the procedure does not differ from other hair transplant methods; i.e. hair follicles are extracted from the donor site by using a punch tool, and then implanted into the desired area to kickstart the hair regrowth process.
What are the steps involved in an Afro Hair Transplant, Turkey?
If you're travelling to Turkey for surgery and looking forward to the best Turkey hair transplant experience, then it's important to know how a FUE hair transplant procedure works:
Step 1
Hairline Design
Your surgeon will first prepare the donor site by determining the total number of grafts needed, while also ascertaining how dense they are.
Step 2
Local Anaesthesia
To make you feel completely at ease, he/she will administer some local anaesthesia to the donor area.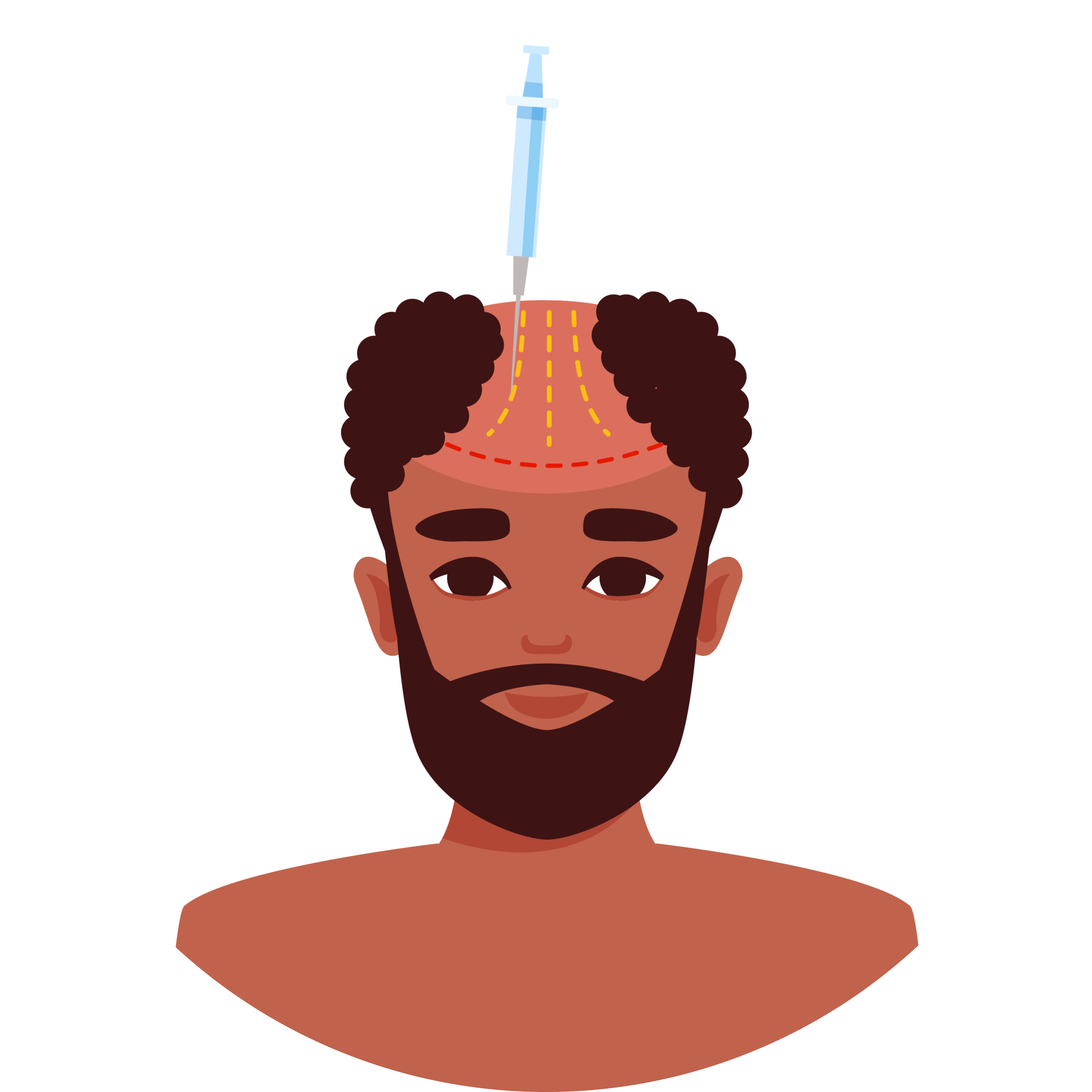 Step 3
Mid-Procedure
Next, you surgeon will use the latest, cutting-edge technology used in afro hair transplants in Turkey, where sapphire blades are used to create micro channels or incisions in the recipient site. Now it is ready for the hair transplant procedure.
Step 4
Implantation
In the final stage, your surgeon will use a
regular FUE hair transplant
method to implant the 'harvested' hair follicles into the recipient area.
Who is a suitable candidate for Afro Hair Transplants in Turkey?
As the term implies, the procedure is ideal for individuals of African descent. Both men and women are great candidates, where they have been experiencing either temporary or permanent hair thinning or balding.
However, men or women facing specific health conditions or serious traction alopecia, for example, may not be ideal candidates. In any case, our friendly consultant will sit down with you to not only assess if you're a good candidate for an afro hair transplant in Turkey (to ensure optimal results) but also offer you some of the best Turkey hair transplant deals!
What are the recovery & after-care steps?
The recovery timeline for afro hair transplants in Turkey is more or less the same as a FUE hair transplant. Patients follow up with our top-rated hair transplant clinic in Turkey a day after the surgery to let the surgeon inspect both the donor and recipient site. Antibiotics are prescribed as a precautionary measure in order to eliminate the risk of any infections. Painkillers and anti-inflammatory medication is also prescribed to help with any pain or discomfort after the surgery.
It takes most patients of afro hair transplants about 2 weeks to recover - that's when the FUE hair transplant scabs tend to disappear. 'Shock' hair loss during the first 2 weeks is a perfectly normal phenomenon and is, in fact, a necessary part of the recovery process.
In about 3 months or so, your 'brand new' hair will start growing and in about 12 months, the transplanted grafts will have grown fully. However, some general aftercare is required for optimal results. This means keeping the donor and recipient sites clean, as well as using the products and medications prescribed by your surgeon.
Patients are also urged to cleanse the affected areas gently and avoid activities which expose them to sweating, or too much dust, heat and moisture.
Your surgeon will explain all the recovery phases and aftercare steps in more detail once you visit our top rated hair transplant clinic in Turkey!
What are the benefits of this procedure?
A highly specialised hair transplant procedure especially formulated for African people experiencing hair loss.
Fewer scars and lower rate of scapular trauma compared to other hair transplant methods for African individuals.
Afro hair transplants done using the best quality sapphire blade, which provides unmatched precision and superb results.
Lower chances of any potential damage during the implantation process, leading to denser and thicker hair growth.
FAQs about Afro Hair Transplant in Turkey
What is the price of a hair transplant Turkey?
It's difficult to answer the question "how much is a hair transplant in Turkey?" with a precise figure or a range because there are many factors involved. However, we can guarantee that the average cost of a hair transplant in Turkey is significantly lower than that in the UK, EU or US, for example.
Is your top rated hair transplant clinic in Turkey backed by insurance?
Our partner hospital, including the staff, are backed by a comprehensive insurance plan, which means all members, including your surgeon, are insured against malpractice.
Can I talk to anyone else who has had an afro hair transplant in Turkey?
We cannot give away any contact details of our existing clients, unfortunately, although you can read a tonne of client testimonials and get in touch with us to take advantage of the best hair transplant Turkey package according to your needs.
Are afro hair transplants in Turkey painful?
You will feel minimal to no pain at all during the procedure as it is done under local anaesthesia.
Are there any Afro specialists available at WaveMedica?
An Afro hair transplant is similar to any hair transplant procedure. However, the surgeons at WaveMedica are extensively experienced and possess academic excellence to provide a life- changing experience!
Call us for a free consultation
Looking for the best hair transplant Turkey package? Ready to get a beautiful afro hair transplant in Turkey at the best rates? We have you covered!